Digital History
Looking for an interesting way to spend your time this weekend?  Here's a suggestion: travel digitally through the history of Detroit and the University of Detroit Mercy (UDM)! Both the city and the university offer a diverse and interesting past just waiting to be shared. Since the end of the 19th century, each has reflected the changes in the other. The successes and growth of both Detroit and UDM are reflections of the people who live, work, and dream here. Be part of something vital by checking this out.
Where to start? Well, how about at the Father Couglin Collection? Many know the story of Father Charles E. Coughlin and his contribution to the history of Detroit, but did you know UDM has a digital collection of his work and recorded influence during his lifetime? This archive includes a short biography, along with his educational materials, primary writings, radio broadcasts, photographs, and much more.
Father Coughlin's archive includes several publications of the Shrine Herald newspaper that he contributed to during the 1940s and 1950s. To check out the entire digital collection of the Shrine Herald publications, visiting this important collection is just a click away.
To gain an understanding of what was taking place at the University of Detroit and Mercy College during the same period, spend some time with the Commencement, Convocation, Course Catalogs and Bulletins, Mercy College collections (Sisters of Mercy and college newspapers collections), Tamarack, University of Detroit Yearbook Collection, Varsity News, and similar special collections.
Also included in our digital archives are people who have contributed greatly to the enrichment of both the city of Detroit and UDM such as Father Edward J. Dowling (Fr. Edward J. Dowling, S.J. Marine Historical Collection),  Dr. James T. Callow (The James T. Callow Folklore Archive), and Maurice Greenia (Maurice Greenia, Jr. Collections).
There's nothing more rewarding on these snowy days of winter than gaining a deeper understanding of the history of place. Spending time within these digital pages offers visitors a great way to discover and experience a past that still influences us today.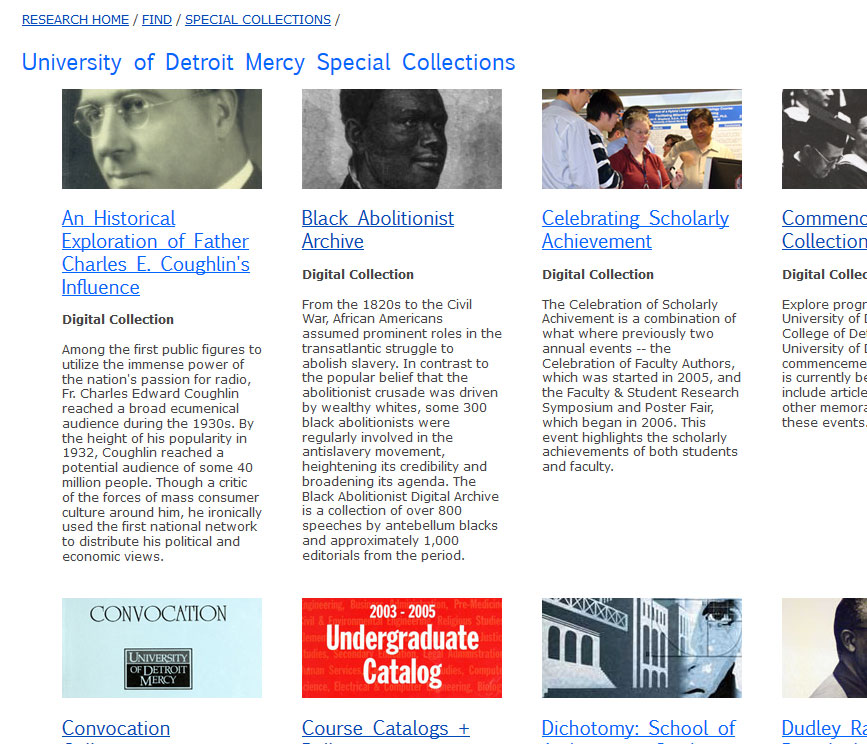 Special Collections Page, University of Detroit Mercy Digital Archives