Fall means Football!
Fall in Michigan is full of surprises.  It's difficult to know what to expect of the seasonal changes after Labor Day. Not only does the state become a colorful display of red, yellow, and orange foliage this time of year, it can display this foliage against a dramatic backdrop of painfully blue skies or thunderous storm clouds.  Each day is a different but beautifully expressed tumbling towards winter.  And winter can be harsh and unforgiving.
So ancient man (mid-19th century man to be exact) decided to do something about the unsettled nature of Fall and invented football.  Or so one story goes. Actually, Wikipedia says there was only one man, Walter Camp, to give this credit to in this country, since he is considered to be the "Father of American Football."
It wasn't that long ago that the thoughts of students at UDM turned to football with the coming of Fall.  The Titans were much beloved and strongly supported, not only by the entire university, but also by fans across the city and beyond. Devoted fans ensured a place for football as part of student life until its sad end in 1964. With each game, fans enjoyed reading about the players in glossy, brightly colored and highly collectable programs available for sale at each game.  These now grace the virtual pages of the University of Detroit Football Collection in digitized form.
And we are adding to this archive all the time! This month, for example, we've added 51 new program images to the programs collection and hope to add more soon.  We invite you to take a look at our newest additions this fall football season, and spend some time scrolling through the games of the past. Imagine yourself sitting in the stands among the crush of cheering fans. Smell the popcorn and hot dogs, feel the chill of a crisp fall afternoon, and relive a time when winning this one game was all that mattered in the world.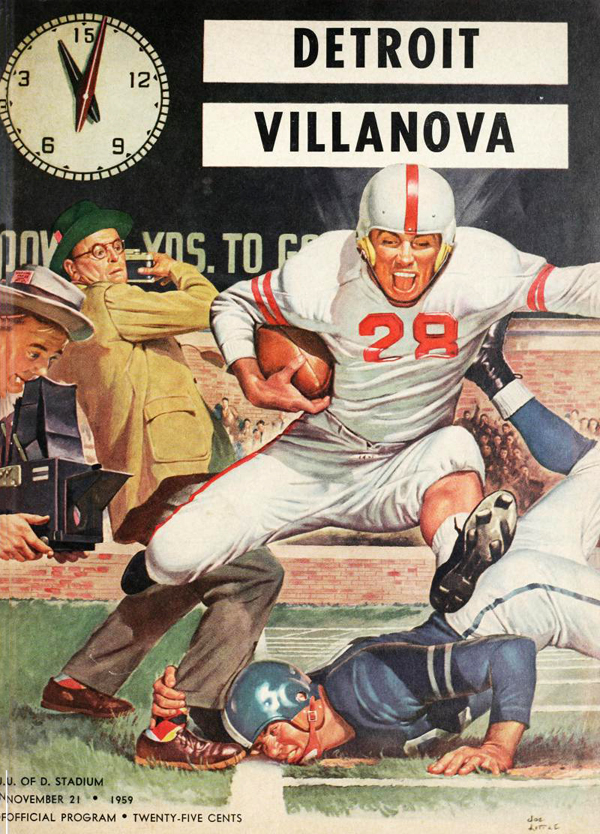 The digital Football Collection offers viewers a way to revisit the time when the pride of the university was reflected in the powerful Titan team. To complete the experience, click through some of the audio interviews included with the collection and hear first hand the memories of those who were there on the field, who felt the sting of those days before uniforms were designed with safety and comfort in mind.  It's easy to be proud once again listening to those who still remember their time on the field.