Black Abolitionist Archive
The Black Abolitionist archive features a portrait of Anthony Burns on the Digital Archives page.  While not an abolitionist himself, Burns' experience played a prominent role in the direction of abolition during the turbulent years of the mid-1800s.  His experience, occurring soon after the publication of Uncle Tom's Cabin, offered a turning point for public sentiment regarding the plight of the slave.
Wikipedia tells us that Anthony Burns was born into slavery in Virginia on May 31, 1834 (slavery was officially abolished in Great Britain on August 1, 1834) and died on July 17, 1862 (slavery officially ended in the U.S. on January 1, 1863).  He escaped slavery at the age of 19, and was captured as a "run-away" under the Fugitive Slave Law in Boston the following year.  The public rallied in his defense and a crowd of Bostonians of both races attempted to free Burns.  In the rioting chaos that followed, a Deputy Marshall was killed.  Federal troops had to be employed to ensure Burns was returned to Virginia after the trial.
Anthony Burns was arrested under the newly established Fugitive Slave Law while walking down a street in Boston, Massachusetts (a free state).   His story can be read and heard (audio reading available) on the Black Abolitionist Archive page.
The Fugitive Slave Act of 1850 encouraged average citizens to capture and return runaway slaves through offers of monetary reward.  This law, however, not only succeeded in returning slaves, but in enslaving those who were considered free men and women of color.  Vigilante groups began to capture free citizens along with runaways and sell them into slavery in the name of this law.  While the law was enacted to protect the slave holder from loss of "property," it only succeeded in bringing to light the horrors and injustices associated with the institution of slavery that had been previously ignored by the general public.  The average citizen was now paying attention.
With the recent popularity of Harriett Beecher Stowe's best-selling novel and subsequent play, Uncle Tom's Cabin, the general public was becoming painfully aware of the plight of the slave.  The horrors coming to light with the actions of those seeking to cash in with the Fugitive Slave Law seemed to awaken a sleeping, unaware public.
Wikipedia includes a response to this incident by Amos Adams Lawrence, philanthropist and newly realized abolitionist:
"We went to bed one night old-fashioned, conservative, compromise Union Whigs & waked up stark mad Abolitionists." (James M. McPherson, Battle Cry of Freedom: The Civil War Era (New York: Bantam Books, 1989), p. 120.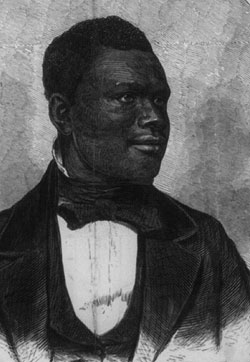 In the end, Anthony Burns' freedom was purchased by Boston sympathizers.  He never fully recovered his health after his ordeal, however, and he died on July 17, 1862, just after his 28th birthday.