First Graduating Class
In 1883, Detroit College (located on the corner of Jefferson Avenue in downtown Detroit) had been in existence for only five years.  The first graduating class of posed for the photograph shown here: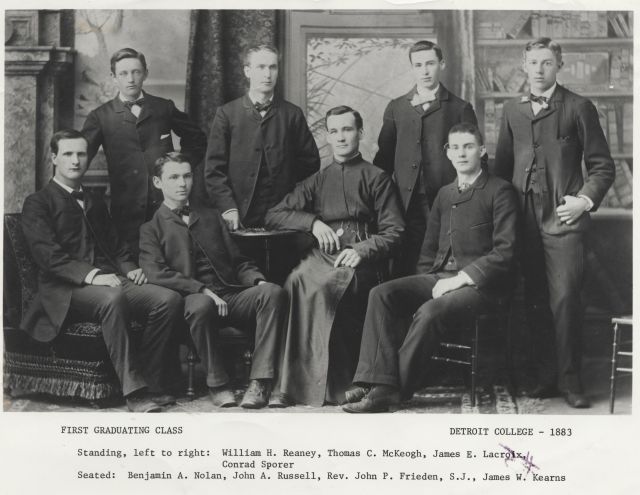 Among the graduates that year was a 19 year old young man named Conrad Sporer (pictured on the far right).  Articles published in the Detroit Free Press allow us to follow Conrad's life from graduation to his early death in 1921, at age 57.  After earning his BA from Detroit College, he was elected orator for the Alumni Association of Detroit College and became a member of the St. Joseph's Literary Society.
He married Gertrude Harris, 26, in August of 1902.  He was selected for the initial jury pool in the Stevens trial of 1904. He ran for 12th Ward alderman in 1908. (This information found on Find-A-Grave website.)
Detroit College president John P. Frieden, SJ (seated in the middle of the photograph) would later become president of St. Louis University, St. Louis, Missouri.
It's likely, although not definite, that William H. Reaney (standing at far left of the photograph) would later become Father William H. "Ironsides" Reaney, much loved naval chaplain.
John A. Russell, seated next to Benjamin Nolan (left side of photograph), went on to become Dean of Commerce and Finance at the University of Detroit.  He received an honorary Doctor of Laws degree from the university in 1916.
Each story here expresses the value of the higher education these young men received.  Each member of this first graduating class went on to contribute greatly to the growth of this great city.  To these early graduates, the future held unlimited possibilities for Detroit to realize its place among the growing major industrial cities of the time.